(Updated last January 13, 2021)
TODAY'S UPDATE
Thailand reports 157 new COVID-19 infections which brings the total number of cases to 10,991.
Out of the 10,991 cases, there are 7,928 recoveries, 67 deaths, and 2,996 cases currently undergoing treatment.
The Thai Embassies and Consulates are now issuing  Certificate of Entry to enter Thailand for those nationalities under Visa Exemption list.
The ASQ Hotel reservation and COVID 19 Insurance are required for foreigners entering Thailand.
The Thai Embassies and Consulates are now issuing 60-day tourist visa and special tourist visa (STV) and Certificate of Entry to enter Thailand.
Thailand travel ban on some international passenger flights has been extended until further notice.
The foreigners to be allowed to enter Thailand will comprise of  diplomats and foreign workers including their families, business representatives and experts invited by the government, permanent residents, foreigners with Thai families, students and their guardians, medical tourists and their attendants, business visa holders, Thai Elite Visa holders, APEC Card holders, special tourist visa (STV) and tourist visa (TRV) holders, non-immigrant O retirement visa, non-immigrant OA and OX holders  and migrant workers with official documents. Foreigners must get in touch with the local Thai Embassy in their current location to apply for Certificate of Entry and for more information.
Starting October 1, 2020 to September 30, 2021 Thailand will allow limited numbers of long stay foreign tourists under the Special Tourist Visa (STV) Program.  This long stay visa is open to foreign nationals  travelling to Thailand with the intention to stay long term as tourist to boost the tourism industry. Those who are qualified, must get in touch with the local Tourism Authority of Thailand Office or Thai Embassy in their current location for more information.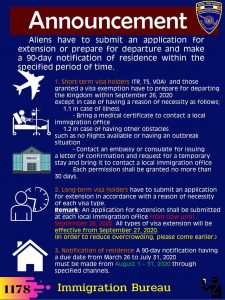 COVID-19 Thailand Visa Amnesty/Extension
What is a visa amnesty?
It is the visa relief or automatic visa extension for all foreign nationals staying in Thailand affected by the COVID-19 crisis as announced by the government on July 29, 2020.
Who are covered by the visa amnesty?
All foreign nationals who are legally staying in Thailand whether you are here on visa exemption entry stamps, tourist visa, non-immigrant visas, or yearly extension of stays.
What are the current implementing rules regarding the visa amnesty?
Visas or permit to stay that have expired from March 26 onward will be allowed to temporarily stay until September 26.
Foreigners will not be charged 500 baht per day for overstaying their visa or permit to stay.
Foreigners who are due to file their 90-day address notification must do it starting August 1-31, 2020.
Foreigners are no longer required to apply in person for an extension at an immigration office.
Foreigners holding a long term visa such as working visa, marriage visa, or retirement are required to apply for their yearly extension at the immigration office now or before September 26. The extension of stay will start September 27, 2020 and valid for 1 year.
Foreigners do not need any embassy letter to be granted the automatic visa extension unless they want to stay beyond September 26 due to travel ban in their country.
Is the visa extension free of charge?
Yes, the automatic extension of the visa or permit to stay until September 26 is free of charge. However, those who applied for the visa extension from March 26 to April 8, if you have paid for the 1,900 Thai baht immigration fee or even the overstay penalty, that fee is non-refundable. The visa amnesty was enacted and came into law effective on April 9th, therefore it was not covered back then.
Will the visa amnesty be extended?
The validity of the visa amnesty is until September 26 only. There is no indication that this visa amnesty or grace period will be extended.
What will happen when the visa amnesty is lifted or not extended anymore?
When the situation is resolved and returns to normal, foreigners must leave Thailand on or before September 26 or they must apply for the proper visa extension within August 1 to September 26. Foreigners are also required to do the 90-day reporting within August 1 to 31. Those who fail to comply with these requirements will be strictly prosecuted according to the laws.
Travel Ban
The government bans all entries of international flights to Thailand until August 31 to focus on repatriation of Thai nationals for the mandatory 'state quarantine'.
The foreign diplomats and foreigners who are qualified to enter Thailand may now apply for the "Certificate of Entry to Thailand" to be allowed to enter Thailand on the available repatriation flights. Please check the page Can you enter Thailand now during the COVID-19 Crisis?
90-Day Reporting
If you are a foreigner staying in Thailand for a period longer than 90 consecutive days holding a Non-Immigrant Visa or Extension of Stay, you are required by the Thai Immigration to report your current address every 90 days. You may file for the TM47 notification in person, by mail, online or by an agent. Please check this page: https://www.thaiembassy.com/thailand/90-day-reporting-immigration.php
Consequences of Visa Overstay
During this COVID-19 crisis in Thailand, some foreign nationals may find themselves overstaying in Thailand, do so by mistake, by miscalculating the length of their stay, forgetting their visa expiration date or by unforeseen cancellation of their flights due to travel restrictions. As a traveler, you should strongly avoid overstaying in Thailand, but if you do find yourself in Thailand on an expired visa it is very important that you act fast and in the right way. Please check this page to learn more of the consequences of overstaying in Thailand: https://www.thaiembassy.com/thailand/overstay-visa-thailand.php
Top Services provided by Siam Legal International, Thailand's largest legal service network.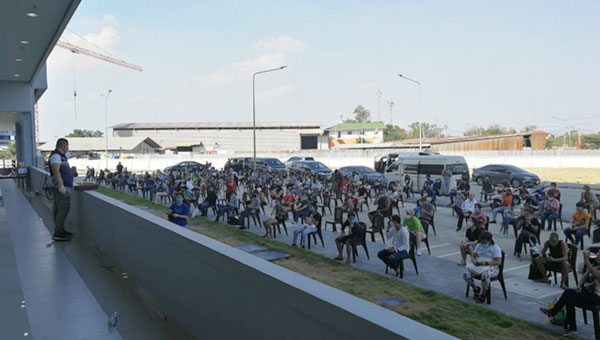 Cancellation of Visa Exemption (until September 30, 2020)
Italy passport holders will no longer be granted visa exemption at any point of entry regardless of their country of origin. Passport holders of Hong Kong SAR, Macau SAR, and South Korea will still receive a 30-day permit to stay under bilateral agreements between Thailand and these countries. The other countries under the 30-Day Visa Exemption Scheme may still use this program to enter Thailand.
Cancellation of Visa on Arrival (until September 30, 2020)
The countries with canceled visa-on-arrival are Bulgaria, Bhutan, China, Cyprus, Ethiopia, Fiji, Georgia, India, Kazakhstan, Malta, Mexico, Nauru, Papua New Guinea, Romania, Saudi Arabia, Taiwan, Uzbekistan, and Vanuatu. These countries are now required to obtain a proper visa in order to travel to Thailand. The visa on arrival for Russia has been canceled, however, Russian passport holders may still enter Thailand for 30 days under the bilateral agreement with Thailand.
Frequently Asked Questions
To extend a tourist visa, do I need to visit the immigration office in person? I do not want to go to crowded areas at risk of getting infected?
Yes, there have been no changes regarding the visa extension application whether it is your first time to extend or the second time to extend using the embassy letter. The application is still done in person. Although, immigration offices are practicing different measures such as social distancing and disinfecting the area to make sure that the applicants are not at risk of contracting the COVID-19. It is also good to note that immigration officers are also at risk of contracting the virus but it is the parliament and high ranking officials that have the power to grant visa amnesty.
I have tried the online reporting and reporting through a mobile app, both attempts are a failure. What are my other options?
If the online and mobile app reporting does not work, you need to do the reporting by yourself or you can ask an agent or third party to do the 90-day address reporting. You need to provide a power of attorney and the 90-day reporting documents such as original and copy of passport. There is no immigration fee for address reporting.
Is it required by law to wear a face mask?
The emergency decree that came into effect on March 26 recommends everyone to wear a face mask when you are outside of your residence. However, some provinces such as Phuket has their own rule and you will be subject to a penalty. In Bangkok, commuters are required to wear a face mask when using public transportation.
Should I carry my passport at all times?
Yes. If you are a foreigner and you will be out of your residence or hotel, you need to carry your passport especially right now that there are random checks to check the visa validity, and also if you are outside of your residence during the curfew hours from 10 pm to 4 am. It is also good to know that there are banks that would not allow you to enter the premises if you have traveled recently abroad, so it is best to have your passport with you at all times.
What if I break the curfew?
There are certain people that are exempted from the curfew such as people providing emergency medical care and travelers who are coming from or traveling to the airport. If you find yourself in violation of the curfew law, you need to pay 40,000 THB penalty.
I am aware of the travel ban for foreigners entering Thailand, is there special consideration for those traveling with my Thai family or visiting my Thai family?
The travel ban that is effective until June 30 is very clear, only Thai nationals are allowed to enter Thailand on special flights.  So if your family is in Thailand, you can only travel back to Thailand when the travel ban is lifted. If you are traveling with family, you can expect that only your Thai family will be allowed to board the flight and you will be refused to board the flight.
I have a Non-Immigrant B visa and work permit expiring on April 24, due to my country's travel restriction I cannot return to Thailand to renew it. What are my options?
If your country does not allow you to travel to Thailand, I regret to inform you that there is nothing you are able to do. It is not possible to renew it while you are outside Thailand and it also not possible to renew at the Thai embassy in your country. Should your visa and work permit expire while you are outside Thailand and the travel restrictions are lifted, you need to apply for a new non-immigrant B visa for you to enter Thailand and after you have entered Thailand, you can apply for a new work permit.
When do I need the embassy letter for visa extension?
You only need to provide the embassy letter if you are already doing the second extension. Please know that if you are on the tourist visa or visa exemption, you can still extend your stay for 30 days as normal even without the embassy letter.
I am looking for flights from Laos to Europe and this requires me to transit in Thailand. There are multiple different articles including the one on Thai Airways stating that a Health Certificate is required for transiting passengers.
According to Thai Airways, yes, incoming passengers including transiting passengers are required to present a COVID-19 health certificate and health insurance. If you are affected by this travel requirement, you may opt to postpone your travel or you may opt to book a flight that will not transit through Thailand. For the latest update, it is best to contact your airline.
I am a US citizen traveling from the US to Thailand via Hong Kong, am I subject to mandatory quarantine?
If you have transited not more than 12 hours and you have only stayed at the airport, the mandatory quarantine is not required. Upon arrival, you need to show both of your boarding passes to confirm that you have not passed through the immigration in your transit airport.
Hello, I have booked my tour for Thailand in April 2020 with Indian passport but now the Thailand government has temporarily suspended the grant of visa on arrival at any international airport to contain the spread of the coronavirus. What can I do now?
Since the visa on arrival has been canceled, you are required to secure a tourist visa prior to your trip to Thailand. You need to obtain the Thai visa from the nearest Thai embassy or location in your country of residence or nationality subject to consular fees and regulations of the said Thai embassy or consulate.
I'm a French national. I have taken 60 days tourist visa, which is ending soon, but due to COVID-19, I am kind of reluctant to travel back to France, is there any way that I can extend my visa for another 30 days?
Yes, any nationality holding a 60-day tourist visa entry stamp can extend for 30 days at the local immigration office. For the extension, you just have to submit one passport size photo (4cm x 6cm) with white background, TM6 card, TM30 receipt from your hotel and pay the fee of 1,900 Thai baht.
I am British and I entered Thailand on holiday on March 3 and am scheduled to leave on April 1. If my flight is canceled due to COVID-19, I may be forced to overstay my 30 days permit to stay until I have a rescheduled flight. Is this ok? If not, what should I do?
You are able to extend this 30-day visa exemption stamp for another 30 days at the local immigration office. For the extension, you just have to submit one passport size photo (4cm x 6cm) with white background, TM6 card, TM30 receipt from your hotel and pay the fee of 1,900 Thai baht.
I am a Dutch national who traveled to Thailand from China and I will be subject to a mandatory quarantine. Can I leave Thailand or return home even before the 14-day duration is complete?
Yes, you may leave Thailand. You must receive a permit from the communicable disease control officer and must not have COVID-19 symptoms in order to pass the exit screening.
I am an American and I have a 30-day visa exemption that I extended for an extra 30 days. My current extension will expire on April 1, 2020. What are my options to stay in Thailand due to the travel restriction in other countries?
You have three options: 1.) You can extend your current extension for 7 days at your local immigration office. 2.) You can request a letter from your embassy in Bangkok confirming that you have been affected by travel restrictions and flight cancellation, you will be given 30 days extension at your local immigration office. 3.) You can exit Thailand and re-enter to obtain a new 30-day visa exemption. You may travel to a nearby country in Thailand that does not have any travel restrictions.
I have a non-immigrant O visa for having a Thai wife. It is a single entry visa. My 90-day entry stamp will expire in April and the money in my account has not seasoned yet for 2 months. What can I do?
Since you are legally married to a Thai national, you can apply for a 60-day extension for having a Thai wife. This extension will give you enough time for your funds to season for 2 months. After your funds have seasoned for 2 months, you may apply for the 1-year extension or marriage visa.
My work permit and my visa will expire by the end of the month. Due to the current COVID-19 situation, I am not able to return to my country. What are my options?
Since your visa and your work permit will expire, your only option for an extension of your stay in Thailand is to file for the 7-day extension. You may apply for this extension on the last day of your permit to stay. If 7 days is not enough, please contact your embassy in Thailand to provide you the letter requesting a 30-day extension.
I am flying from the USA to Thailand via Hong Kong. Do I still need to present a health certificate and travel insurance?
At the moment, passengers departing from Hong Kong are required to present a health certificate and insurance upon check-in. Since the first part of your trip is departing from the US, you need to check with your airline if it is necessary to present the health certificate and insurance.
Can anyone advise what to do regarding my Non-B visa? My Non-B has expired on 4th March. I have to pay a fine of 500 baht per day overstay. The borders around Thailand are closed for me to renew it. I have requested a 30-day extension but was refused. They need my new contract for the new year. At the moment schools are closed and even so it is a process to get all my documents. This is costing me an arm and a leg. What are my solutions?
The best solution for this is to avoid overstaying so that you will not get in trouble in the future. If you do not have a new contract from the school it is imperative for you to return to your home country until you have a new contract and apply for a new visa from the Thai embassy there. Once you have secured a new non-immigrant B visa, you may return to Thailand together with a copy of the health certificate and health insurance.
In the UK, access to testing is very limited and they are currently not allowing any testing for people without symptoms. How are travelers supposed to get a health certificate in order to be able to provide this at the airport of origin?
The Thai government and the UK government are highly recommending to cancel or postpone unnecessary travel to Thailand. If the travel is of extreme urgency and importance, the traveler must secure a medical certificate confirming that he/she is not a COVID-19 positive and should also provide health insurance no matter what the cost is.
I am a U.S. citizen. I arrived in Bangkok last March 9. My flight to Manila has been canceled on April 8. I am in Pattaya. Do I need a US embassy letter to extend my 30-day Travel Visa? Or can I just go to the Thai Immigration office in Pattaya to get extension due to COVID-19?
No, you do not need an embassy letter at this time. Your current 30-day visa exemption stamp can be extended for an additional 30 days. For the extension, you just have to submit one passport size photo (4cm x 6cm) with white background, TM6 card, TM30 receipt from your hotel and pay the fee of 1,900 Thai baht. The embassy letter is only required if you have exhausted all possible options for an extension.